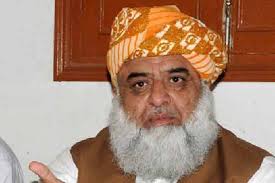 Maulana Fazalur Rahman said protecting prime minister (of Pakistan) is a good deed. Everybody knows the corruption and money laundering of Nawaz Sharif. Maulana Rahman is a propagator of Islamic system in Pakistan. Though he never explained and told us what type of Islamic system he wants to implement in the country and how he will do that. If his thinking and ideas dictates his actions then we can draw the conclusions very easily.
According to his interpretation of Islam, corruption, dishonesty, lies and disloyalty to country is according to the teachings of Islam.
The question we should ask ourselves is if prophet Muhammad (sas) is alive today will he endorse Maulana Rahman's actions and interpretation of Islam.
Earlier if you remember he gave a statement that Baitullah Mashud, a chief terrorist of Pakistan Talibans is a martyr and his famous quote if a dog is killed by Americans the dog will be a martyr.
This is Maulana Fazalur Rahman's Islam.And he is ally of Nawaz Sharif. That tells you Nawaz Sharif agrees with Maulana Rahman's interpretation of Islam.